Overview
Milwaukee's current fire chief, early in his career, watched an apartment burn down while his firetruck was stuck on the other side of a blocked rail crossing (see story on pg 18). Unfortunately, blocked rail crossings have a significant impact on emergency response.
When lives are on the line…firefighters are sometimes faced with difficult decisions. In Pennsylvania, a fire truck disregards cross guards with an approaching train to reach a fire with children trapped in a burning apartment.
Story from Pennsylvania and another.
Downtown
Rail crossings in downtown Milwaukee present a risk for emergency response, cause citizens delays, logistics companies expenses and present a multitude of congestion and safety issues. Rail is still a vital and necessary mechanism for transport of goods. Predictive Mobility disruptions the transportation industry where rail meets road. This is solution will allow road traffic to avoid rail traffic without having to lift a shovel for expensive bridges or tunnels.
Bridges or tunnels cost tens of millions. Predictive Mobility costs only pennies per crossing occurrence. The payback for downtown Milwaukee is enormous compared to cost.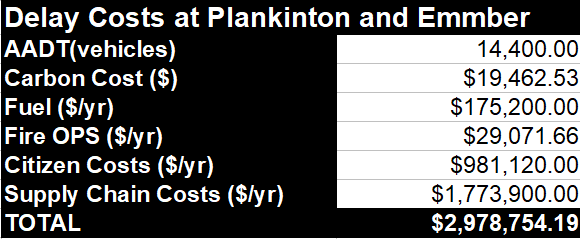 Northwest Side
The impact on the northwest side of Milwaukee is ten times that of downtown with over 150,000 vehicles crossing rail tracks each day. We estimate the cost of blocked crossings in this part of town to be approaching $30M per year.
Installation
A pilot system is being installed in downtown Milwaukee. Access to the system will be provide to emergency response, to citizens and to companies.